BookTrib's Bites: Dulcie Chambers Mystery Series Is Both Cozy and Captivating
(NewsUSA)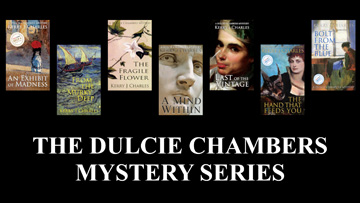 "The characters are well-developed and smart ... even the very minor characters have backstories ... Very enjoyable!" -The Cozy Mystery Blog

The Dulcie Chambers Mystery series is perfect for anyone who loves following along with an unconventional amateur detective as she solves the classiest whodunnits you've ever read. It's also perfect for those who want a splattering of the art world mingling with their mysteries, satisfying penchants for stylishness while learning about anything from oil painting to falconry.
Author Kerry J Charles' background more than qualifies her to pen artistic mysteries steeped in uncanny depths of knowledge. She has worked as a researcher, writer and editor for National Geographic, the Smithsonian Institution, Harvard University and several major textbook publishers. She holds four degrees and has carried out research in many of the world's art museums as a freelance writer and scholar.
AN ART CURATOR TURNED SLEUTH EXTRAORDINAIRE 
Charles threw the doors wide open with her first novel, "An Exhibit of Madness," (2013) starring the cultivated curator Dr. Dulcinea Chambers. Dulcie just opened a new exhibit of watercolors at the Maine Museum of Art. Everything seems poised for success until she discovers a corpse where the painting should have been and, worst of all, she's one of the primary suspects.
Dulcie wouldn't consider herself a heroine but is forced to be her own when her life takes this crazy turn. She joins forces with Police Detective Nicholas Black to clear her name, and soon her sleuthing becomes a recurring habit. Detective Black gets pulled in and becomes an ongoing character throughout the series in Dulcie's mysterious misadventures.
Book Two sees her seeking the truth about a stolen van Gogh painting found with a dead scuba diver, all while traversing the stormy seas of love in "From the Murky Deep." Things get even more complicated in the compelling third book, "The Fragile Flower." BookTrib's review affirms that "Readers will be inspired by Dulcie's resourcefulness and determination in achieving her goals, and stick around for the relationships she cultivates … Charles skillfully blends information about art history and painting technique into her exciting whodunnit that will keep readers guessing until the very end."
Luckily, it's not the end of the intrigue. The next book, "A Mind Within," showcases Dulcie stretching her creative muscles into the unusual genre of Outsider Art. An old boyfriend then brings more than just personal drama when he pops over from Scotland for a visit in "Last of the Vintage." Falconry is an unexpected art form that flies into action in the equally captivating "The Hand That Feeds You." Finally, "Bolt From the Blue" adds high fashion and even opera into the eclectic mix.
A COLLAGE OF ART, MURDER AND A BIT OF ROMANCE 
Charles crafts characters with detailed and nuanced personalities as well as contexts equally as interesting as the plot twists. Stay tuned for the next scrape that Dr. Chambers manages to get into (and out of) when the eighth novel comes calling. Dive in at www.kerryjcharles.com. 
BookBites is presented by BookTrib.com.