BookTrib's Bites: A Potpourri of Great Reads to Start the Year
(NewsUSA)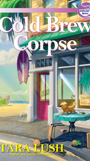 "Cold Brew Corpse"
by Tara Lush
Espresso bar owner Lana Lewis returns in this second Coffee Lover's mystery, a stimulating read that fans of Cleo Coyle and Laura Childs will savor to the last drop. The bright, sunny days at Perkatory -- the hottest coffee shop in Devil's Beach, FL., -- turn decidedly dark-roast when the body of the owner of the neighboring yoga studio turns up in a nearby swamp.
When the local newspaper editor asks Lana to write about the murder, her dreams of getting back into journalism start to percolate. She grinds her way through the suspect list. Was the killer one of the victim's students? An envious yoga teacher? Or a local photographer who seems to know too much? Purchase at https://amzn.to/3kHUcf3.

"Skinwalkers: The Uprising"
by Monica L. Smith
In this paranormal thriller, three individuals are at pivotal points in their lives --Ashley, Gethambe and Lana. While their lives will soon intertwine, not all will get their happy ending.
Ashley's world crumbles when her husband files for divorce and moves on to another woman. Gethambe, a half-breed human and wolf, needs to prove himself to his pack and take an epic journey from death to life, fighting seven Archangels. He is not provided any information or weapons. Gethambe must use only his wits and survival instincts. Lana, a half-breed human and wolf with healing abilities, tries to prove her loyalty to become Gethambe's wife. It's full of strange twists and turns as they seek their destinies. Purchase at https://amzn.to/3uDBHMp.

"Surviving Chaos"
by Harold Phifer
For more than 50 years, Harold Phifer's childhood living conditions remained a secret, even from those who thought they knew him best. No one knew about his past growing up with a mother who suffered from mental illness, a greedy aunt, a mindless and spoiled older brother and an absent father.
It wasn't until an explosion in Afghanistan that his memory was blasted back into focus. This book is the result of a long, cathartic chat with a stranger at a beach bar, where Harold finally found some peace. Says Blue Ink Review, "Entertaining, sprinkled with humor, drama and sadness. Readers will discover an intriguing life, one of turmoil and finally, thanks to a stranger on a beach, inner peace." Purchase at https://amzn.to/3DmfUvR.

"Worldmaker of Yand-Polaris"
by Andri E. Elia
Savage invaders from space, the k'tul, all but destroyed her home world of Yand. Fleeing the aftermath of that war, Yanara, Worldmaker and Celestial Wizard, brings her wife Mandolen and her husband Frost to a bronze moon orbiting the fifth planet of the star, Polaris B. In this idyllic place of three suns, the three of them only sought to lick their war wounds.
Instead, along with their families, they start a new life and new colony. Filled with magic and new adventures, the challenge of colonizing their new home blends with unraveling threads of Yanara's darker past … tying her to the k'tul. What secrets will they discover? Will they find the peace they so crave, or will the vengeful k'tul find them again? Purchase at https://amzn.to/3nL4v3M.
NOTE: BookBites is presented by BookTrib.com.