Donate Cash for Greatest Disaster Relief Impact
(NewsUSA)

This past year, back-to-back hurricanes in Central America, the COVID-19 pandemic, and ongoing conflicts in Syria, Yemen, and Ethiopia have increased the need for international aid as well as people's desire to help. Although many people want to support global disaster relief efforts, most people don't know the most effective way to contribute, according to the U.S. Agency for International Development's Center for International Disaster Information (CIDI).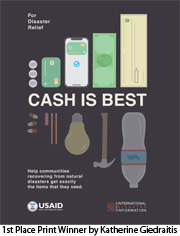 When it comes to supporting international disaster relief efforts, monetary donations are the best way to help. Every disaster response is unique and cash contributions are fast and flexible, allowing relief organizations to purchase exactly what is needed, when it's needed and support local economies. Donating material goods such as food, water, and clothing, incurs additional costs, including transportation and storage, and may be culturally inappropriate or otherwise hinder relief efforts.
To promote the message that cash is best, USAID sponsors an annual Public Service Announcements for International Disasters contest (PSAid) for college students, recruiting them to create PSAs in three formats: print, video, or digital. The contest entries this year included nearly 90 submissions from 11 universities. All 2021 winners hail from Arizona State University, making this the first clean sweep in the PSAid contest's 15 year history. Entries were judged by a panel of five experts from the humanitarian and communications fields.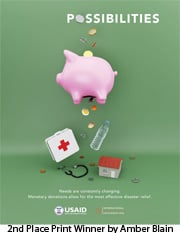 Additionally, three entries were selected as the winners of the People's Choice competition, an opportunity for the general public to vote on their favorite contest entry in each category on the PSAid website.
"I learned that donating physical items to overseas disasters often does more harm than good," says Molly Gaffey, People's Choice winner in the video category and University of Michigan student. "Although these items are provided in good intention, they come with barriers that can be avoided with monetary donations."
Some winning PSAs will be featured in prominent magazines or aired during popular television programs, and will be also used in CIDI's 'Cash is Best' education efforts.
Some common myths about donating cash to help international disasters include:
MYTH: I cannot donate enough money to make a difference.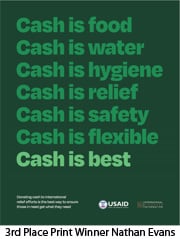 FACT: Even a small donation can help international disaster victims. In Haiti, $5 will buy a life-saving course of antibiotics. In Zimbabwe, a $10 donation can provide regular healthcare to 90 people for a year. In Java, $50 provides a one-month food supply to volunteers rebuilding homes for earthquake victims. (Source: www.globalgiving.org).
MYTH: If I donate cash, most of it will go to administrative costs and not directly to help the victims.
FACT: There are numerous reputable international disaster response agencies which dedicate monetary contributions directly to relief programs in the field. It is important that contributors feel comfortable with their charity of choice and research their methods as appropriate. Cash donations have far greater impact than donated goods.
Visit PSAid.org for more information and to view the winning PSA entries.