BookTrib's Bites: Secrets, Celebrations of Family and Ramblings of Wisdom
(NewsUSA)

"Lost in Paris"
by Elizabeth Thompson
When a deed to an apartment in Paris turns up in an old attic trunk, an estranged mother and daughter must reunite to uncover the secret life of a family matriarch -- perfect for fans of "The Little Paris Bookshop" and "The Beekeeper's Daughter."
A heartwarming and charming saga set in the City of Lights, "Lost in Paris" is an unforgettable celebration of family and the love between a mother and a daughter. New York Times bestselling author Kristan Higgins calls it "a luscious, layered story of inheritance, heartbreak, reinvention, and family. I adored this book." Purchase at https://amzn.to/3pQXOuH.
"The Lockhart Women"
by Mary Camarillo
Brenda Lockhart's family has been living well beyond their means for too long when Brenda's husband leaves them and the family's economic situation declines. Daughter Peggy thinks she's heading to college, until her father offers her a job sorting mail while she attends community college instead. Daughter Allison can't believe her luck that California golden boy Kevin has fallen in love with her.
Meanwhile, the chatter about the O.J. Simpson murder case is always on, a media frenzy that underscores domestic violence against women and race and class divisions. Brenda thinks O.J. has been framed. Both daughters are more interested in their own lives -- until Peggy notices bruises Allison can't explain. Purchase at https://amzn.to/2MA3DPd.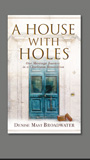 "A House with Holes"
by Denise Mast Broadwater
With their marriage on the line, this risky rehab could cost more than savings. Can a devoted pair rebuild their dream out of a nightmare?
Denise Broadwater thought she lived on strong foundations. But when she and her husband took on an ambitious remodeling of a Charleston, S.C., classic in a crime-ridden neighborhood, the cracks in her resolve started to show. And after a brick shattered their front window, she feared they'd bitten off more than they could chew.
In this powerful warts-and-all memoir, Broadwater lays bare the tests and triumphs of restoration and close living. With insightful marital wisdom, she'll lead you through an unforgettable tale of reinvention. Purchase at https://amzn.to/3chbR7X.
"Pace's Post: Ramblings of Wisdom from a Middle-Aged Doc"
by Victor M. Pace, MD
Written by a family medicine physician with 29 years of medical experiences and 55 years of life experiences, this book is a compilation of values, ideas, and journeys.
The chapters are independent of each other and are intended to be enjoyed by all adolescent and adult readers. Topics include: traveling, hobbies, activities, family time, philosophical ideals, and much more. Some of the chapter titles are: "Risk Taking," "Technology Then & Now," "Why Everyone Should Visit My Hometown," "The Love Of Pets," "My Journey Through Racism," and "The Value Of Journaling." It's all here wrapped up in one book. Purchase at https://amzn.to/3rOa3ZN.
NOTE: BookBites is a continuing series bringing readers information and ideas for their next read. For more reading ideas, visit BookTrib.com and subscribe to our weekly newsletter.